Calling all young film buffs – the search is on for the best Northern Ireland movie reviews by children and teens with the chance to win a £20 Amazon voucher every week.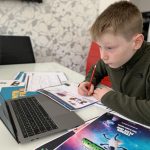 Educational charity Into Film has launched the new competition on its social media channels to help young people to keep occupied and develop their literacy skills during the coronavirus lockdown.
Parents, carers or educators are being encouraged to get young people to write a review of 100 words or less of any film they have watched and then post a photo of the review on Twitter or Facebook.
Winners will be awarded every two weeks. Just remember to tag Into Film @intofilm_ni in each post and use the hashtag #Review100. All reviewers must be 18 or under to qualify for a prize.
For more information about the competition and a handy template to get started, go to https://www.intofilm.org/news-and-views/articles/review-100-competition