Reflecting on year one of Collective…
24th June 2020
5 Minute Read
At Film Hub NI, we've dipped our toes into the world of touring films on a case by case basis over the past few years.
Once because we saw a local film we loved that didn't get a wide theatrical release (Bad Day For The Cut), and once because we saw an amazing Japanese LGBT documentary that made us cry ugly tears at Galway Film Fleadh (Of Love and Law).
The success of both these tours, and the commitment from our network to engage with them, lead us to thinking about formalising film tours (primarily in non-theatrical venues, shortly after theatrical release) as part of our Hub core strategy to get fantastic independent film in front of local audiences, while supporting NI/Irish filmmakers.
Out of this, Collective was borne. Named to showcase the collective nature of our network, and the collective power of exhibition, distribution and production working together, Collective has had a very successful first year.
While there is a strong network of touring networks throughout the rest of the UK such as Movieola, Creative Arts East, Off Y Grid and others, efforts to establish a sustainable network in NI had been inconsistent to date.
Key objectives of our touring scheme:
• Getting local independent film in front of audiences through the thriving community cinema network that has a proven record of attracting good audiences for local content.
• Bridging the gap between audiences, exhibitors and the production sector, and highlighting the opportunity for distributors to work with a collective of willing venues.
• An opportunity for Film Hub NI to develop strong relationships with distributors and the production sector.
The operational plan (in a nutshell) was to:
Select a film and negotiate with distributors
Organise a tour of regional non-theatrical venues/community cinemas and
Manage centralised marketing while helping out with the individual event marketing too.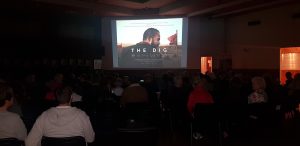 We launched in April 2019, with a tour of The Dig (an Out of Orbit production) taking place on various dates between April and June. This involved working with Element Pictures for the first time and was a great learning curve to base the following tours on. After lots of chat and a great day out meeting the lovely people from Element (and Wildcard Distribution – more to come on that later) in Dublin, we tied down dates, venues, signed off assets and coordinated talent for each screening. The producer, directors and writer all appeared at various screenings, which added to the tour and something we want to keep on some level for all tours where possible.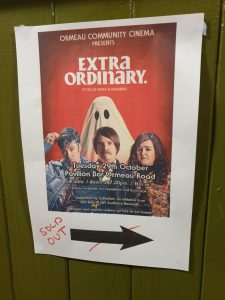 While Collective is only one of our core projects and we tried not to overlap with tours (so each film gets its deserved attention…and for our small team's workload), we did tour two fantastic Wildcard Distribution titles (Extra Ordinary, a comedy-horror & Gaza, a documentary) during October-December. The reasoning behind this decision was because the films were so different that we felt we could give each title its own marketing strategy without diluting the other.
We were unable to secure talent at these screenings so we thought about how we could still provide that added experience at screenings in the future where it was not possible to have cast or crew there in person.
Luckily, for our last film of 19/20 – Bump Along The Way, we worked with Bronagh Gallagher's agent to get a fantastic video introduction message from the star herself, for the venues to play. We also managed to secure the producer  Louise Gallagher (seen below!) to attend and take part in several Q & As with the Hub team hosting.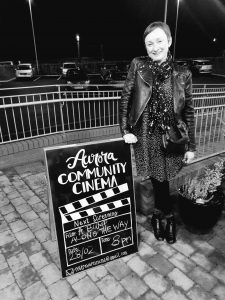 This final tour was the biggest in terms of tour dates and audience size and it really felt that the learning we had during the previous 3 tours came together to provide brilliant screenings for the community cinema, with bigger than usual audiences, and for the network to really work together to promote each other screenings and support each other. It genuinely was a wonderful experience for the communities, audiences and filmmakers.
The plan was for Collective to continue for at least the next two years but alas, COVID-19 has put paid to that. What will help us regroup and plan for resuming Collective in 20/21, is the findings of an evaluation we recently commissioned from Eximo Marketing to look at the stats and stories of the project, and to inform our planning to make Collective even better.
Touring these four titles (The Dig, Gaza, Extra Ordinary and A Bump Along The Way) confirms to us that the modest investment in Collective has paid significant dividends in terms of audience numbers, building relationships with distributors and filmmakers, and raising the profile of selected Northern Irish and Irish titles.
Key findings:
58 - average attendance per screening (34 screenings in total)
42% of attendees had never been to an event run by that organisation previously.
45% of those who had attended previously had not been for more than 6 months.
99% of those asked said they would attend again
Assuming an average cost per ticket of £4, the project generated revenue of £7,724 at box office, which was retained by the cinemas
GVA (gross added value) for the whole project estimates that the overall financial impact of Collective was £36,986.
Quotes from participating exhibitors:
"Collective increased audiences. Bump was the biggest crowd we ever had, and The Dig had a Q&A which got some new audience in who have since returned"
"Collective definitely brought in younger people"
"The screening was sold out and this would be  unusual for us."
"We run at a loss, so it makes the night profitable because we were supported by marketing a real collective structure – it increases size of crowd"
"How many of these films would we have shown without  Collective? None"
Quotes from distributors and filmmakers:
"Any additional income for low budget films is great"
"A wider release helps us get on to streaming"
"We wouldn't be doing anything like this if it wasn't for Collective"
"It was so well organised. We didn't have to fix anything; they made the process so simple."
"My plan is…for all future releases, I would love them to be part of Collective."
Recommendations in the report suggest that we focus on diversifying the audience further, work on scheduling so programmers have a longer lead-in time and offer more assistance with tech requirements. We certainly commit to doing our best to follow these and make the experience as easy (and enjoyable) for everyone as possible.
During these times, where our screens are dark and the Collective experience of watching quality independent film together seems far away, it is important for us all to remember that there is huge appetite for these types of events and that they bring great benefits for all involved. We will work closely with distributors, exhibitors and filmmakers to make sure that Collective will return (when safe to do so) even more determined to bring great films to more people across Northern Ireland.
Thanks to all the Collective venues:
Queen's Film Theatre, Newcastle Community Cinema,  Aurora Community Cinema Rostrevor, Dungannon Film Club, The Braid Film Club, Seamus Heaney HomePlace, Roe Valley Arts Centre, Flowerfield Arts Centre, Portrush Film Theatre, Fermanagh Film Club, Ormeau Community Cinema, Subterranean Community Cinema and The Picturehouse, Ballyclare.
Thanks also to:
Eximo Marketing
Element Pictures
Wildcard Distribution
Brian Falconer
Louise Gallagher
If you'd like to see a copy of the full Collective report or have any questions, please contact Sara Gunn-Smith