Film Hub Fortnightly (Easter edition)
06th April 2020
5 Minute Read
Easter is nearly upon us and staying home is the order. We've rounded up the best in Irish film from across the streaming platforms to soothe your isolation blues.
Following on from their very successful Sofa Shorts Day, the Belfast Film Festival will be continuing with more online programmes. Available to stream for free on their website until the 9th of April, events include archived talks with filmmaker Ken Loach and actors Robert Carlyle and John Cusack. As well as documentaries such as the experimental To See a Lighthouse (2020) and The 34th (2018), which tells the story of the NI marriage equality campaign. You can also stream the The Shapes Between Us, a collection of archival films focused on the history of the NI dance music scene, curated by Second Chance Cinema, in partnership with Film Hub NI..
More details and news about future events can be found on the Belfast Film Festival website.
Cinemagic have made their second feature film, Grace and Goliath available to watch free from 7th to the 14th of April.
Outside of specific programmes, Northern Irish cinema, or Irish cinema more generally, can be found across all major streaming platforms.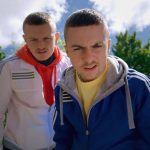 Netflix's catalogue includes Northern Irish productions such as documentaries Bobby Sands: 66 Days (2016), as well as thrillers The Foreigner (2017), starring Jackie Chan and Pierce Brosnan, and Bad Day For The Cut (2017). You can also find Dublin set realist crime tales such as Dublin Oldschool (2018) and Michael Inside (2017), comedies like The Young Offenders (2016) and Extra Ordinary (2019) and local set horror films such as The Lodgers (2017), Hostage of the Devil (2016), and The Hole in the Ground (2019). Both Black '47 (2018) and The Siege of Jadotville (2016) loosely re-enact particular periods or moments of Irish history, while you can also watch a documentary like Katie (2018), about boxer Katie Taylor, or Oscar nominated animation, The Breadwinner (2018).
Over on Mubi, you can rent the Seamus Murphy directed A Dog Called Money (2019), a documentary travelogue covering the inspirations and recording of PJ Harvey's ambitious ninth album, The Hope Six Demolition Project. Or you can go for an older title like the historic drama Wilde (1997), starring Stephen Fry as the eponymous poet, playwright and wit. While over at Curzon Home Cinema, Vivarium (2019), a science fiction film starring Jesse Eisenberg and Imogen Poots, is available to rent.
BFI Player is the one to go for some otherwise hard to find Northern Irish Films. Including feminist classic, Maeve (1981). Directed by Pat Murphy, it follows a young woman who, after years living in London, returns to Belfast, the conflict and the relationships she had left behind. Set during the war of the independence and in the north, Ascendency (1983) is a drama about a landowner's daughter who finds herself becoming increasingly involved with the independence movement. While Traveller (1981), based on a screenplay written by Neil Jordan, is a drama about a traveller couple who get involved in a cross-border smuggling operation. There are also some non-fiction highlights. A Place Called Ardoyne (1973), profiles the working class catholic community while From Acorn To Oak (1983), directed by Ulsterman Montgomery Tully, is a humourous short documentary commemorating the 50th anniversary of the invention of the pneumatic tyre. If you're subscribed to BFI Player you can also watch I Am Belfast (2015), Mark Cousin's personal portrait of the city.
Other Irish titles available to rent include the aforementioned Black '47 and The Cured. But there are also many popular exclusives. Including John Michael McDonagh's black comedy The Guard (2011), starring Brendan Gleeson and Don Cheadle, Ken Loach's historic tale of radical, rural Irish grassroots, Jimmy's Hall (2014), and Lenny Abrahamson's pop dramedy Frank, starring Michael Fassbender and Domhnall Gleeson. Two music themed double bills are possible with John Carney's breakout Once (2007) (available through the subscription service) and his latest film, Sing Street (2016), as well as two docudramas from acclaimed filmmaker Pat Collins; Silence (2012) and Song of Granite (2016). Other independent productions include I Am Not A Serial Killer (2016), Papi Chulo (2018) and Rosie (2018), written by the novelist Roddy Doyle. You can also watch, for free without a subsciption, Guerillere Talks (1978), a film about the women of 1970s New York punk directed by one of Ireland's greatest filmmakers, Vivenne Dick.

Amazon Prime's Northern Irish collection is, similar to other services, preoccupied with The Troubles and its legacy. Non-fiction titles include I, Dolours, and Bobby Sands: 66 Days, as well as Fractured Peace (2017), The Ballymurphy Precedent (2018), No Stone Unturned (2017) and Unquiet Graves (2019), narrated by Stephen Rea. For fiction, you can find dramas Hunger (2018), starring Michael Fassbender as Bobby Sands, The Journey (2016), starring Timothy Spall and Colm Meaney as Paisley and McGuinness in a battle of wills, and The Boxer (1997), starring Daniel Day Lewis. There are many Troubles set thrillers as well, including '71 (2014), Maze (2017) and Fifty Dead Men Walking (2008).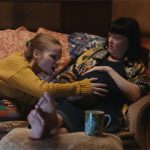 There are many other Northern Irish and Irish made and themed films available on Prime as well. Including Derry-set comedy, A Bump Along The Way,  Made in Belfast, horror film, The Devil's Doorway (2018), period piece Michael Collins (1996), starring Liam Neeson as the complex and doomed revolutionary leader and documentaries both serious (Children of Shame (2014) and humourous (The Irish Pub (2013)).
Please note: many of these titles are available across various platforms, please check your own subscription packages for details.