Film Hub Fortnightly March Part 2
15th March 2021
4 Minute Read
Two of Belfast's best festivals are bringing a range of entertaining and engaging film events to our home screens this month, and Ballyclare Community Cinema launch online screenings.
Running from the 15th to the 31st is the family-friendly 'On The Pulse' short film festival, hosted by the Belfast-based youth-oriented film exhibition group Cinemagic. This virtual edition features a very wide range of short film works, including live-action, documentary and animation. The programme centres around themes of inclusivity and the state of the world today. There are light comedies and spooky gothic tales, and films made locally and around the world. The festival will also include a feature film, Grace and Goliath (2018), produced by Cinemagic themselves. More information about this diverse programme can be found at the Cinemagic website.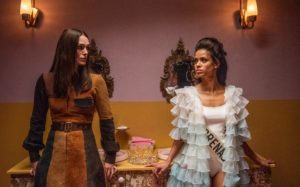 20th March sees Ballyclare Community Cinema host an online screening of Misbehaviour (2020), starring Keira Knightley, Gugu Mbatha-Raw and Jessie Buckley telling the story of the disruption of the 1970 Miss World beauty competition in London. All proceeds from ticket sales for this online event will be donated to Ballyclare Family Focus. Gather your bubble and get your ticket here.
Another highlight this month is the virtual 2021 edition of Imagine! Festival of Ideas and Politics, a festival where "you are invited to join us in discussing the big issues of our times including new ideas on politics, culture and activism." This will entail a whole host of different types of events, including a substantial, free film programme hosted in partial partnership with the QFT Player.
The Imagine! Festival arrives on the 22nd of March and runs through the 28th. 
On the Player, showing for 24 hours from 7pm on the 22nd, Nasrin (2020) is a documentary portrait of Iranian human rights lawyer and long-time political prisoner Nasrin Sotoudeh, featuring narration from Olivia Colman.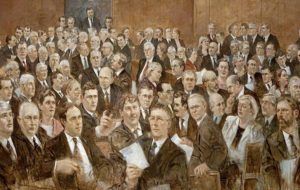 From the 23rd until the 28th, you can see A House Divided (2003), a rarely screened documentary from NI film veteran and mainstay of this column, John T. Davis. It follows Belfast painter Noel Murphy, exploring the process behind and the legacy of his painting of all 108 members of the historic 2002 Northern Ireland assembly. On the 24th, and available for 24 hours from 7pm, is Eat, Grow, Love (2017), a documentary that tells six international stories of sustainable living.
At 4pm on the 24th, Imagine!'s own website (not QFT Player) is showing Careworn: Lockdown Stories from Family Caregivers (2021), a short film made by QUB faculty members Dr. Lisa Smyth of the sociology school and Dr. Paul Murphy from drama. It features drama students re-enacting actual accounts of caregivers in the pandemic.
Also available on the Imagine! website, on the 25th at 7pm, The Astronaut's Missing Passport (2021) is a short, filmed play from Downstage Left, an English-language theatre troupe based in Amsterdam. This is the story of an astronaut whose attempt to return home to the UK during the pandemic goes awry when a missing passport gets her stuck in a post-Brexit bureaucratic limbo.
Back at the QFT Player, available for 24 hours from 7pm on the 25th, you can see Made In France: In The Name Of War (2020), which follows a legal investigation into a French arms dealer, following an incident in 2014 during the Gaza War. Also on the 25th, at 8pm on the Imagine! website, there will be a live discussion of Steve McQueen's Black Britain, with a screening of Lover's Rock, an entry in his critically acclaimed, five-part film series Small Axe (2020).
The Q&A will be hosted by the Strand Arts Centre and will feature the Strand's Johanna Leech, JoinHer Network's Lori Gatsi-Barnett and Golden Thread Gallery's Esther Andare, along with a special guest.
Showing from 7pm on the 26th, for 24 hours, Hikikomori: The Locked Generation (2020) investigates a growing social problem in Japan, where increasing numbers of young people are opting to live lives of extreme isolation. Showing on the Imagine! website at 7.30pm on the 26th, Race Relations in Northern Ireland: Past, Present and Future (2021) is a film report on the issue of racism in the region. Imagining a Fairer Future (2021), showing at 5pm on the 27th, gathers first-person accounts from around the globe and on what kind of world can be envisioned in the wake of the pandemic. The screening will be followed by a short panel discussion on how this topic applies to Northern Ireland.
Also on the 27th, at 8pm, Democracy Dances: Orchestral music and politics in 2021 is a film from The Belfast Ensemble which features an interview with composer Conor Mitchell on the relation between music and political engagement, and a filmed performance of Mitchell's own piece for orchestra and electronics, "Democracy Dances".
Showing on the 28th at 2pm, Stories that Shaped the Strand (2021), is a short film collection of stories about the Strand Arts Centre and its longstanding place in Belfast culture and history.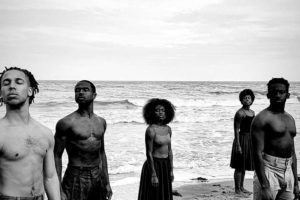 Also on the 28th, at 7pm, Like Water (2020), is a short dance film featuring a performance from the troupe Ballet Black. Choreographed by leading member Mthuthuzeli November, the film was inspired by the Black Lives Matter movement. The film will be followed by a discussion between Ballet Black's Founder, CEO and Artistic Director Cassa Pancho; writer and poet Nandi Jola; youth advisor to Terra Nova Productions, Anesu Mtowa; and academic Sinead O'Sullivan.
The film programme will then conclude with a return to the QFT Player and Gunda (2020), a new film from Russian documentarian Victor Kossakovsky. Playing for 24 hours, from 7pm on the 28th, Gunda puts you in the day-to-day experience of a pig and its farm-animal companions.
All of these events are free, though many still require pre-booking. More information can be found at the Imagine! Festival website and over at the QFT Player.