Report: Cannes Film Festival 2022
This year I had the opportunity to take a 3 day whirlwind tour of Cannes Film Festival for the first time using the amazing 3 Days in Cannes program that is available for those who are aged 18-28 and have a love of cinema.
This was my first time at Cannes and honestly, I had always been under the impression that Cannes was an exclusive club for only film industry professionals and critics to attend but the ease of the application process was surprising. A 10-minute application involving a short cover letter of why I'd like to attend was all it took and 2 weeks later my application was successful.
The 3 Days in Cannes pass gives you access to almost everything on offer be it films in Official Selection (Competition, Out of Competition, Special Screenings, Un Certain Regard), Director's Fortnight and access to the Palais des Festivals where you can attend press conferences and have a good chance of celeb spotting as an added bonus.
Since 2021 they've introduced a full ticketed system for attending screenings which saves a lot of time you previously would've spent queueing 1-2 hours before the showtime. This on paper is a great system although the website to book tickets was mostly down the first 2 days I was there so a lot of patience was required to get through and book.
I managed to see 11 films in my 3 days and there was a mix of films I absolutely loved, some I'd no expectations for that really surprised me and even 1 film so not for my personal taste that I took part in the Cannes tradition of walking out early and joining the queue for McDonald's to fill my stomach before the next midnight screening soon after.
Here are the 11 films I watched in 3 days ranked:
Le Otto Montagne by Felix van Groeningen & Charlotte Vandermeersch
The Stranger by Thomas M. Wright
God's Creatures by Saela Davis & Anna Rose Holmer
When You Finish Saving The World by Jesse Eisenberg
Coupez (Final Cut) by Michel Hazanavicius
Armageddon Time by James Gray
Tirailleurs (Father and Soldier) by Mathieu Vadepied
Hunt by Lee Jung-jae
Meek's Cutoff by Kelly Reichardt
Enys Men by Mark Jenkin
EO by Jerzy Skolimowski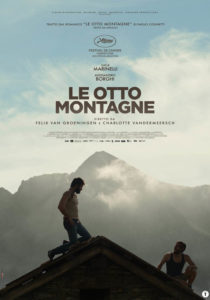 EO, Le Otto Montagne and Hunt all took place in the Grand Théâtre Lumière with the cast and crew present, so it was great to get the tuxedo out and join in with the far too long standing ovations during and after the credits. Enys Men and Meek's Cutoff were part of the Director's Fortnight programme so directors Mark Jenkin (Bait) and Kelly Reichardt (First Cow) had Q&As after their screenings.
The screening of The Stranger I attended was also the premiere at the festival so although it was during the afternoon and there was no black-tie dress code in place, the cast and crew including Joel Edgerton and Sean Harris were in attendance a few rows behind. The Stranger along with Le Otto Montagne were my highlights of the 3 days with Le Otto Montagne seemingly coming out of nowhere to blow my expectations out of the water.
I'd highly recommend applying for the 3 Days in Cannes programme to anybody and although 3 days isn't that much time to see everything Cannes has to offer it's definitely worth the lack of sleep and running on fumes required to pack in as much as possible into that short amount of time. Just remember to fit in some time to eat in between screenings and bring the sun cream as you can still somehow end up burnt whilst spending 8 hours a day in a dark room enjoying all international cinema has to offer.
Thank you to Film Hub NI for the support in attending this year's festival and if you've any questions about attending next year feel free to reach out to me  and I'll give you all the tips I've got.
By Andrew Allen (Ormeau Community Cinema)https://twitter.com/_AndrewAllen_