Revisiting Cal
13th December 2022
7 Minute Read
In the latest in an occasional series revisiting key cinema releases in NI history, Sam Manning turns his attention to Cal, Pat O'Connor's 1984 adaptation of Bernard MacLaverty's novel of the same name.
1984 was an annus horribilis for most cinema exhibitors as UK admissions reached an all-time low of 54 million, a long decline from the 1946 peak of 1.6 billion. Most cinema buildings dated from before the Second World War and their best days were behind them. Even if these old-fashioned cinemas updated themselves by inserting partition walls to create multi-screen venues, they still struggled to compete with the rise of home video. The UK's first US-style multiplex cinema, The Point in Milton Keynes, only arrived a year later in 1985.
But Belfast's Queen's Film Theatre (QFT) was different to most cinemas. Set up in 1968 to bring the best of international cinema to Northern Ireland, it attracted a loyal, dedicated audience who found a safe haven from the Troubles in a converted lecture theatre on the Queen's University campus. While QFT was conceived as a self-supporting venture, its early years were marked by financial pressures and difficulties attracting external funding. But things started to change in the 1980s. While other venues were struggling, the resurgence and growth of Irish cinema, with films such as Neil Jordan's Angel, led QFT into profit for the first time, eventually allowing the venue to open a second screen in 1988.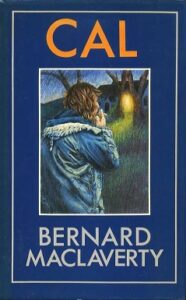 And one of the most successful of these Irish productions was a small-budget film called Cal, which remains one of the most significant films about the Troubles. David Puttnam, fresh from the success of producing Chariots of Fire and Local Hero, then turned his attention to adapting Bernard MacLaverty's novel of the same name. Directed by Pat O'Connor and featuring a melancholic score by Dire Straits frontman Mark Knopfler, Cal stars John Lynch as the titular character, a 19-year-old Catholic drawn into Republican violence who forms a relationship with local librarian Marcella, played by Helen Mirren, the Catholic widow of a Protestant RUC constable who now lives with her in-laws in an isolated farm house. Set against the background of sectarian division, the film skillfully shows the impact of violence on the everyday lives of people from different social and political backgrounds. It skilfully presents Cal and Marcella as victims of hidden forces who are unable to escape the consequences of wider events beyond their control.
Given the setting and subject matter it is perhaps unsurprising then that the film was so well received in Belfast. Michael Open, then head of QFT, met David Puttnam at Cannes and arranged to bring Cal to the cinema for the 1984 Belfast Festival, the success of which led to a further run of 42 consecutive sell-out performances. During this time 14,100 people saw Cal, and for the first two weeks of these screenings, QFT became the second-highest grossing cinema in the UK outside of London. Open stated that 'from then on until 1990, QFT became the place for Irish films to be shown in Belfast with huge audiences for My Left Foot, The Field, Ken Loach's undervalued Hidden Agenda and the early films of Kenneth Branagh'. Little did he know then that this tradition would long continue and that Branagh's Belfast would later become the cinema's highest-grossing film.
'A monkey off my back'
Speaking from his home in county Cork, where he now lives as an Irish citizen, David Puttnam told me that the genesis of Cal goes all the way back to 1963, when as a young advertising executive he made frequent trips to Northern Ireland to meet with a client in Coleraine. Those trips alerted him to the level of sectarianism in Northern Ireland and the problems faced by the Catholic population in accessing jobs and housing. He saw a wilful ignorance on the part of British politicians and described the situation as a 'brilliantly well-kept horrendous secret where you had a minority population of my own country who were not being treated in the same way'.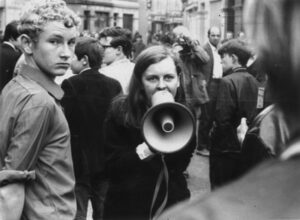 These experiences stayed with Puttnam and upon entering the film industry was determined to address the subject. In 1972 he produced Bringing It All Back Home, a short documentary following Bernadette McAliskey (née Devlin), then MP for Mid Ulster, and her campaign for civil rights in the region. But his interest in Northern Ireland didn't end there and Puttnam bought the rights to MacLaverty's book in early 1983. Prior to Cal, MacLaverty had adapted his short story My Dear Palestrina for BBC2's Playhouse anthology series. The success of this production encouraged Puttnam to ask MacLaverty to adapt Cal, originally for his 'First Love' series broadcast on Channel 4. Puttnam said that while he was sceptical about an author writing a suitable screenplay from their own material, 'it was a wonderful surprise when a very, very accomplished first draft screenplay came in'. The strength of this screenplay led Puttnam to produce Cal as a film.
At that time, Anne Tannahill of Blackstaff Books who originally published Cal told the Belfast Telegraph that 'Bernard is obviously delighted. Puttnam seems to be the great white hope in British film making after all his success with Chariots of Fire'. And while Puttnam could have used this recent success to back bigger projects he told me that the decision to make Cal  'was me getting something of a monkey off my back because… I'd been thinking about this stuff for 20 years'. He added that the book 'hit all the right buttons for me, which is people trapped in a sectarian situation where neither of them had any control over it'.
A BBC Radio Ulster documentary, originally broadcast in 1984, provides a valuable insight into the film's production's process and the motivations of those involved. Director Pat O'Connor, when asked what attracted him to the project, said that he had responded to 'the sense of compassion and the sense of delicacy, the lack of phoney, hard attitudes, [and] the concerns for the decencies of people… And also the lack of clichéd deductions about Northern Ireland which had been aired over and over again often with the law of diminishing returns'.
Casting Cal
This documentary also shows the challenge of casting Cal. The production team rang drama schools in London asking if they could see any young actors from Northern Ireland. John Lynch, then training at the Central School of Speech and Drama, met with Pat O'Connor, casting director Patsy Pollock and co-producer/production designer Stuart Craig, and was then offered the part after completing a screen test. MacLaverty later said that the young Lynch was visibly nervous when filming scenes with the more experienced Helen Mirren: 'you could just hear the nerves in his voice, and for that particular scene, it was like the nerves just before you make a pass or try and kiss someone, and this just stuck in his throat, and it was just wonderful, and she responded beautifully to it'.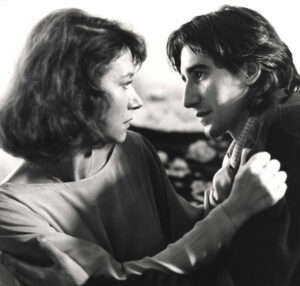 Other actors, meanwhile, drew on their own personal experiences. Catherine Gibson, who played Mrs. Morton said that 'there was a tragedy in my own family not entirely like the one that happened in that. And I suppose deep down I was drawing on… It was all inside me and it all was being worked on and drawn out'.
By 1983 Helen Mirren was a well-respected British film and theatre actress but was not yet the international star she subsequently became. At that time the US backers of Cal didn't see her as a marquee name and only cast her in the role after completing a screen test. She worked hard to perfect her Ulster accent. MacLaverty recalled an on-set encounter with Mirren where he 'wandered off and she was pacing up and down outside in a field with headphones on'.  When he asked what she was listening to, she replied 'I'm listening to Liam Neeson saying my lines'. And while her decision to take the role may have been influenced by her relationship with Neeson, she subsequently stated that she accepted the part 'because it was a story about Northern Ireland, and I've spent quite a lot of time in the past few years in Northern Ireland, and I did it because it was a wonderful script'.
'A modest, excellent little film'
The film was first screened at Cannes in May 1984 where it received a standing ovation. To the surprise of many Mirren won the award for Best Actress, the first British performer to win this accolade since Susanna York in 1972. Mirren was in LA at the time of the announcement and in her autobiography recalled that it was already too late by the time the production team tried to get her over to France: 'Even with a private plane I could not have made it in time, so I missed a moment of glory'. And she later told Terry Wogan that it 'was a great surprise to all concerned… including the people who produced the film… No one believed it was going to happen and I certainly had no idea at all'. British actor Dirk Bogarde was President of the Jury that year and wrote to his friend Kathleen Tynan to say that while he'd seen some 'pretty crummy movies', he had also watched 'a modest, excellent little film about the Irish Business for which, to my delight (and astonishment) Helen Mirren won Best Actress'. This decision, according to Bogarde, sent the Cannes hierarchy 'into a foaming fit!'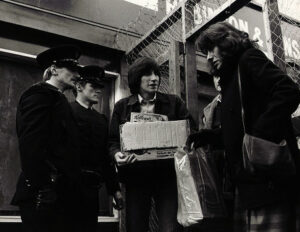 The early reviews were positive. Writing from Cannes, Nigel Andrews of the Financial Times stated that 'Cal is the most moving and convincing portrait of life in Northern Ireland the cinema has yet given us'. And when the film entered UK cinemas Arthur Thirkell of the Daily Mirror stated that the 'acting of Helen Mirren and John Lynch as the lovers deserves the highest praise, and there is much to admire in an honest film that delves deep into the hearts of ordinary people'.  Speaking of its reception in Northern Ireland, Puttnam reflects that 'one of the things I'm always proudest of was the film was well received by both sides of the sectarian divide and got very good reviews in both newspapers… People felt the film was fair minded'.
Its critical success was replicated in the Evening Standard British Film awards, where Helen Mirren won Best Actress and Bernard MacLaverty won Best Screenplay. While Cal was nominated for two BAFTAs - Helen Mirren for Best Actress and John Lynch for Most Promising Newcomer - it went home empty handed. The latter award was won by Haing S. Ngor for his performance in The Killing Fields, a film also produced by David Puttnam that was the big winner that year, receiving 8 awards.
In his letter to Kathleen Tynan, Dirk Bogarde speculated that 'I don't suppose the Americans will ever see [Cal]' as there are 'too many American Irish'. It was, however, distributed by Warner Bros. and warmly received by critics. Roger Ebert stated that it 'is a little amazing, given how old this formula is, that "Cal" works as well as it does, perhaps because no story is old if it happens to new people'. And Janet Maslin, writing in the New York Times, described it as 'a beautiful, mournful story about Northern Ireland… The film brings implicit religious overtones to Cal's search for redemption, but it never loses sight of the plainness and realism that are its best features'.
Commercially speaking the film was a moderate success, breaking even at a difficult time for the cinema industry. While positive reviews and success at Cannes did not necessarily translate to mainstream appeal, the film's popularity at QFT was matched in Drogheda, where much of Cal was filmed and many local people starred as extras. In November 1984, the Drogheda Independent claimed Cal as 'the biggest box office attraction to come to town since E.T.'. John Davis, manager of the Abbey cinema, told the local paper that 'we are having to turn away people… We could have filled the cinema twice over with the crowd that came to the Sunday and Monday night shows'. At least in some locations Cal was able to compete with that year's biggest blockbusters, such as Ghostbusters and Indiana Jones and the Temple of Doom.
The film deserves better than that
And Cal certainly hasn't been forgotten since its first release. In 2018, Peter Bradshaw, Guardian film critic, ranked it as Helen Mirren's best role, claiming that her 'worldly sensuality and her ability to suggest a fully, painfully earned seniority make this her No 1 performance'. The film has subsequently been shown several times at QFT including as part of its 50th anniversary celebrations in 2018. The listing for that screening stated that 'the 35mm we are able to screen is far from pristine but is in fact the best possible version available'. They hoped that this renewed focus would 'shine a light on what is arguably the most important Northern Irish film of the last 50 years'. Having only seen the film on the existing poor quality DVD-release, I gladly took the opportunity to attend this screening. And while it was no doubt a wonderful experience to see the film projected alongside an audience at the cinema where it first found success, it was clearly a well-worn print with substantial audio issues, a particular tragedy given the quality of Knopfler's soundtrack. The film deserves better than that.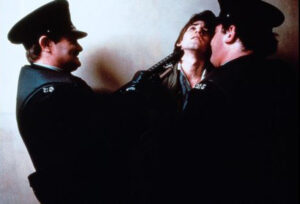 Reflecting on Cal's history, Bernard MacLaverty told me that it was a success because during the Troubles 'here was a film that came along and was more intimate, it was more understandable… And some people have said to me that we didn't know what the fight was about until we saw that film'. Thinking of Cal's legacy, Puttnam believes there's two main reasons why it remains an important film.
Firstly, Helen Mirren's success at Cannes increased her international profile and led her on the path to becoming one of the world's best-known actresses. And secondly, 'the issues the film deals in are probably or on the verge of becoming more relevant than the day we made the film… for me the discussion about the Northern Ireland Protocol, to be honest it's self-evident'. And if the film is worth seeing, which it undoubtedly is, then it deserves to be seen in the best quality possible. Only then will it have a fair chance at being considered as one of the most significant films about the Troubles.
Sam Manning is a film historian and the author of Cinemas and Cinema-Going in the United Kingdom: Decades of Decline, 1945–65 
Many thanks to Mike Catto for his help in compiling this article.