Stars, Celebrity and Showmanship in Post-War Northern Ireland; Part 1
07th June 2021
4 Minute Read
Dr Sam Manning takes another look at the cinema culture and history of NI, this time on the stardust and marketing techniques used by exhibitors here after WWII.
'Razzamatazz'
As cinemas across Northern Ireland reopen after the pandemic, exhibitors are working hard to encourage people back to the big screen. And although the current circumstances are unique and unprecedented in many ways, convincing people to leave the comfort of their homes is far from a new challenge. Even when cinema attendance peaked after the Second World War, cinema operators knew that they could not rely solely on screening popular films. Stars, celebrity and showmanship were important methods used by exhibitors to draw people into auditoriums.
This article looks at how these techniques were used in the post-war years at a time when audiences were declining, leisure habits were changing, and television was emerging as a major threat to cinema attendance.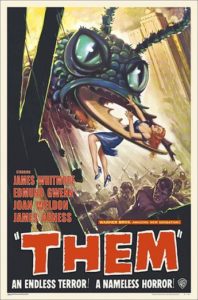 Marketing and publicity became more prevalent in the 1950s as advertising budgets increased and Northern Ireland became a more consumer-oriented society. Large chains such as ABC or Odeon produced advertising guides for cinemas and distributors gave prizes to the staff who ran the most effective publicity campaigns. In 1958, for instance, Roy Evans of Pathé's Belfast branch was given a new Rover 60 Saloon car as part of the company's 'Golden Star' award. For consumers, this showmanship also added an extra level of glamour to the cinema-going experience.
Noel Spence, who now operates Comber's Tudor cinema, told me that in the 1950s he 'liked all the hype, especially the posters… the posters were often better than the films they advertised'. These posters were often displayed alongside lobby cards, banners, foyer displays, slides and trailers advertising current and upcoming films.
Many famous stars also visited Northern Ireland during the 1950s, including Laurel and Hardy, George Formby, Richard Todd and Bela Lugosi. The majority of these came to Belfast's larger and more glamourous cinemas, but there are examples in other parts of the province. In 1957, for instance, Heather Sears, star of The Story of Esther Costello, visited Portadown's Regal cinema for the Irish premiere of the film. Cinema openings also provided an opportunity for star visits and extravagant promotional campaigns.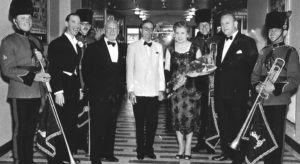 In 1960, Derry's Rialto cinema was reconstructed and reopened as the ABC. Charles Hawtrey visited for the opening night charity screening of Carry On Constable, which was accompanied by a fanfare of trumpeters of the Royal Corps of Signals, an organ performance and the ABC 'Charm Girl' pageant competition.
Given that Belfast's Curzon cinema named its children's club after Roy Rogers, it is unsurprising that his visit in 1954 was such a memorable event for the children who idolised him. Rogers and his wife Dale Evans appeared at the Royal Hippodrome rather than the Curzon, performing on stage for two nights with the cowboy's famous horse, Trigger. One report suggested that Trigger 'travelled separately to Belfast stable by sea and road from Stranraer to Larne', adding that many children were late for school as they waited to watch Trigger disembark. Rogers was later mobbed after his car broke down on the way back from visiting Belfast's Occupation Centre for Children in Need of Special Care.
The most famous visitor, however, was Cary Grant, who made a personal appearance at Belfast's Ritz cinema to promote Indiscreet, a romantic comedy also starring Ingrid Bergman. Following a screening of the film Grant answered questions from the audience and was then presented with a shillelagh. After the show he held a press conference at the Grand Central Hotel where he 'did not smoke, drank coffee, and got up from the floor now and then to move from the window to a cheering crowd outside'.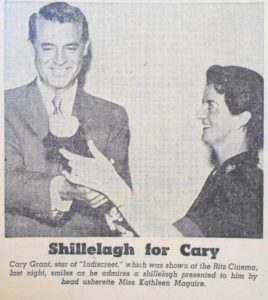 Some of the more upmarket cinemas also held special events, which helped to generate publicity and promote exhibitors as respectable figures in the local community. The Ritz, Belfast's largest cinema with a seating capacity of 2,200, regularly held 'midnight matinees', late-night charity performances which often featured advance screenings, premieres and personal appearances. This 1948 newsreel of such an event shows people arriving in dinner suits and evening dresses, an on-stage fashion show, and various guests including Belfast boxer Rinty Monaghan and British film star Beatrice Campbell.
Two years later, a four-hour St. Patrick's Day midnight matinee included eight variety acts, a screening of The Forsyte Saga and a stage performance by actors Patricia Dainton and Anthony Nicholls. Later that year, Anna Neagle and her husband Herbert Wilcox attended a midnight matinee in aid of St. John's Ambulance. On the day of the event, they visited the Belfast shipyard and a Crumlin Road mill where, according to ABC News 'they were greeted by the workers amid scenes of tremendous enthusiasm'. These events continued into the 1950s, including advance screenings of popular films such as The Master of Ballantrae and Seven Brides for Seven Brothers.
The Ritz also hosted local premieres, which were often accompanied by elaborate promotional stunts. In 1952 it screened the Northern Ireland premiere of Angels One Five, a war film centred on the Battle of Britain. Members of the RAF took to the stage and used radios to guide squadron leader Matthew Vaughan from Aldergrove RAF station to the cinema. Kinematograph Weekly reported that 'from 15,000 ft. above the ABC Ritz', a Vampire jet fighter broadcast the message 'on target at Angels One Five' to the waiting auditorium, signalling the projectionist to begin the film. Northern Ireland Prime Minister Basil Brooke also attended this screening, encouraging people to donate to the Royal Air Force Benevolent Fund.
Part 2: Cakes, Lions and Robots