Watching the North – 'On Traveller and the Cinema of Joe Comerford'
22nd March 2023
5 Minute Read
Ruairí McCann in his latest rumination on Irish and Northern Irish cinema history explores the work of the groundbreaking director Joe Comerford.
In 1984, the filmmaker Pat Murphy ruminated on a change in the dichotomy that has carved up Irish culture, politics and therefore its collective sense of self. For many playwrights, poets and painters of late 19th, early 20th century, the island was split between, to paraphrase Dermot Healy, 'the magic realism of the west and the bustling, modern consciousness of the East'.
For Murphy and her generation, born post-independence and partition, the axis had pivoted. The divide, not just as in terms of political boundaries but in culture too now separated North and South, with the onus on artists, of all stripes, to traverse, counter or otherwise transfigure this separation. Joe Comerford's 1981 film Traveller, his second feature, takes this dislocation to heart and into its form: scattering its characters, symbols, and images of Irishness, across a disconnected, phantom land.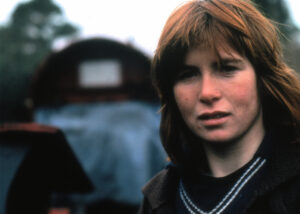 Angela and Michael (played by a first-time actor from the travelling community, Judy Donovan and the acclaimed uilleann pipes player, Davy Spillane) are a freshly married couple, ambivalently so. Their union was a business arrangement, sussed out between their fathers, and so too is their ignominious honeymoon, for they are tasked with driving a van from their home in County Limerick up north and across the border to Strabane, in order to pick up some TVs to be hawked. We're given an early, explicit instance of Comerford's unpredictable and motley approach to the cinematic form, and the uncertainty raging in their hearts over what lies ahead, when their journey is represented with a hand-animated map, significantly showing no starting point and ending with a sign that reads 'unapproved road'.
This relatively straightforward itinerary is complicated when they pick up a hitchhiker, a northerner called Clicky (played by established Irish actor Alan Devlin). One of the most striking figures in Irish cinema history, the verve of Devlin's performance stands in contrast to the minimalism of the mainly non-professional cast. He's an avuncular yet sinister figure; charming, conceited, vulnerable and Mephistophelian, from one moment to the next. His charm offensive and ambiguous interest in a couple is laced with threat, for there are flagrant hints that he's a man of violence, with his aversion for the authorities, allusions to republican ties and the broken revolver on his person.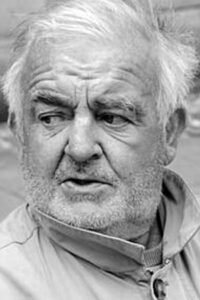 Homeward bound, they part ways with Clicky but his overwhelming presence, and a connection he has formed with Angela, has rattled their already threadbare relationship. When an accident destroys their load, turning them desperate for money, they become not only strangers to themselves but outlaws. Both the law and the talismanic Clicky dog their steps. The latter pulled by an unnameable attachment to the couple but Angela in particular, whose growing discontentment and the flaring up of trauma over her abusive father and her life's strictures, transforms an ominous and surreal survey of a dysfunctional Ireland into a fight or flight for freedom.
Though the film employs the 'set paths', so to speak, of the 'road movie' and the thriller, a formal adventurism, with an emphasis on mood and a fragmenting of character and events, overwhelms a clear narrative sense. The effect is rich, but its openness and ambiguous and notably irked its debuting screenwriter, Neil Jordan. In later years, Jordan would state his admiration for the film but that "it was not his script", and one could see his own directorial debut, Angel (1982) as his response. The two films significantly share some settings, iconography, and themes but Angel is directed with a greater interest in story, a fleshing out of character and a more conventional filmmaking style.
For Comerford, the story serves an imaginative catalogue of psychologically dislocated land and people. This is not an Ireland where its citizens are bound and directed by a common sense of identity or care, but a veritable wasteland of shellshocked, oppressed individuals, governed in accordance with or retaliation to the violent, coercive methods of money and power which have frayed communal bonds.
Much of this dystopia is communicated visually. Comerford and cinematographer Thaddeus O'Sullivan (whose directorial feature debut On a Paving Stone Mounted (1978) has a similarly disjointed, disillusioned sense of Irishness as a chaotic halfway house) forgo typical scene-setting techniques such as clear establishing shots, and make consistent use of obfuscating angles and objects, such as shooting through rain-spattered windows. Comerford's editing doubles down on this prismatic view, with scenes unpredictably switching between extreme close-ups and wider shots, undoing any stable sense of space. There's also the use of abstract animated or otherwise unexpected interstitials, such as one hallucinatorily brief but potent plunge into the past triggered by Angela recalling her mother and her begrudging acceptance of patriarchal violence.
The result is that on a character level misunderstanding and disaffection reign, while the backdrop of the West and Mid-Ulster landscapes are rendered in a fractured haze, as if perpetually stuck in twilight from the perspective of a drunken lens. This is not to underplay the film's humour, from a ramshackle variety performance at a republican social club to the recognisable oddity of its many side characters, such as a leery, scarecrow-like B&B owner, 'Are ya married or out for a dirty weekend?'
The film's daring portrayal of existentialist dread and alienation is worked out wonderfully in performances too, with most of the actors performing a realist style so minimalist, that they occasionally push into a symbolic catatonia. The exception is Clicky, the constant performer, who also stands out because of his volubility. Dialogue and sound in general operate in a strange but very expressive zone, with the hypnotic quality of reel upon reel of half-engaged conversations accentuated by the choice of dubbing most of the dialogue in post-production.
The most notable example being Angela, whose played in body by Judy Donovan but in voice by a professional actor, Marian Richardson. In another context, this would a cynical, commercial-minded move made with a 'wider audience' in mind, but with Richardson's strong accent and mumbled, nasal delivery suggesting another intention. Traveller's Ireland is one where the lower classes, oppressed before and after so-called liberty of the 1920s, are alienated and disenfranchised by a hierarchal status quo. They have been robbed of their voice, politically and literally.
As both a traveller and a woman, Angela's doubly oppressed, and yet her voice also becomes a sight of strived-for expression and autonomy even if it's never found. A conversation between Clicky and Angela, the one sustained moment of two-way empathy in the film, is periodically unfolded through the soundtrack. Angela's bouts of singing are rhymed with the use of a couple of tunes by Mary Devaney, a traveller whose songs tell of the travelling community's and of women's hardships while imparting a powerful, liberated impression with their humour, sexuality, and joy. It's Devaney's voice that bids the final farewell, resounding over a final, powerfully moving dispersal and conclusive to an often-elusive tale of an Ireland lost.
Traveller arrived at a pivotal turning point in the career of Joe Comerford, whose total body of work is small and yet deeply diverse. Pointedly and polemically so, for Comerford is often grouped in with several other Irish filmmakers, such as Murphy and Bob Quinn, under the banner 'First Wave'. Like any critical designation, it is not always useful, but it does communicate both Ireland's film history and how radical filmmakers like Comerford set out to regenerate Irish cinema, to begin again on new, subversive and unrestricted terms. This open experimentation and interrogation of the status quo often places his and their films in closer relation to filmmakers and movement like The Cali Group, a collective of independent filmmakers operating out of the Colombian city in the 70s, or revolutionary Cuban cinema of the 60s, than most of their American or European contemporaries and old role models.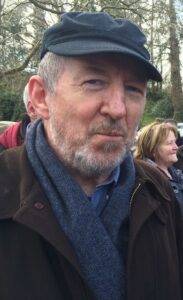 This subversive aim is clear from his early shorts; such as Emtigon (1971) with its synthesis of avant-garde film and sound techniques with a sense of humour and absurdity not unlike Joyce's or Flann O'Brien. His second short Withdrawal (1973) is a bleak yet moving plunge into an unorthodox docufiction form, as it follows and recreates the experiences of heroin addicts in St. Brendan's Hospital in Dublin. There's a sudden shift within that film into an overtly political, essayistic form, with a cut to footage from the 1935 War of Independence set drama Guests of the Nation. The implication being that the pain and torpor of addiction may issue from the point of a needle, but the real source is an oppressive state, with the dreams of a revolutionary Ireland moribund.
The interest in realism and morphing documentary and fiction would continue with his first feature, Down the Corner (1977) made with and starring non-actors from the working-class
North Dublin neighbourhood of Ballyfermot. It could be called a social realist film, European art cinema's dominant form, and yet it has no truck with any of the melodramatic elements or middle-class bromides common in such films.
Traveller was made on a larger production scale with a relatively greater important importance paid to narrative, compared to his earlier work, and the ante would be upped further with his follow-up feature, Reefer and the Model (1988). And yet every film he has made remains deeply idiosyncratic. Traveller's view of Ireland may be dyspeptic, but the vision of Irish cinema as expressed by the work of Joe Comerford is a cinema overflowing with possibilities.
Traveller can be watched on the BFI Player