Extra Ordinary and Gaza announced for Collective touring initiative
30th September 2019
3 Minute Read
Following on from the success of The Dig tour, earlier this year, Film Hub NI are pleased to announce that they are working with Wildcard Distribution to support tours of new releases Extra Ordinary and Gaza across community venues in Northern Ireland.Two very different films, both equally special in different ways.
Extra Ordinary
The Irish comedy EXTRA ORDINARY written/directed by Mike Ahern and Enda Loughman has been playing in cinemas from Friday, 13th September, and will start its NI Community Cinema Tour at Ormeau Community Cinema on 29th October.
The film stars comedian/writer/actress Maeve Higgins (Naked Camera, Inside Amy Schumer), Barry Ward (Jimmy's Hall, MAZE), Will Forte (Nebraska, Run & Jump), and Claudia O'Doherty (Trainwreck, Love, Inside Amy Schumer) and tells the story of Rose, a sweet and lonely small town driving instructor who must use her supernatural 'talent' to save the daughter of a local man from a washed up rock-star looking to use her in a satanic ritual that will reignite his fame.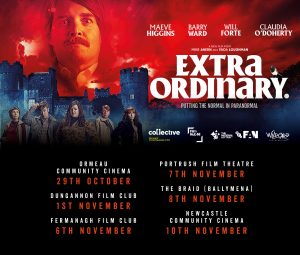 Gaza
Bringing us to a unique place beyond the reach of television news reports GAZA reveals a world rich with eloquent and resilient characters, offering us a cinematic and enriching portrait of a people attempting to lead meaningful lives against the rubble of perennial conflict.
Since its world premiere at the renowned Sundance Film Festival earlier this year GAZA has been selected for some of the top documentary and film festivals nationally and internationally including the Hot Docs Canadian International Documentary Festival, the Virgin Media Dublin International Film Festival where it picked up the Dublin Film Critics Circle Award for Best Documentary and the inaugural Docs Ireland festival in June where it was awarded the Pull Focus Award for Best New Irish Documentary. With this in mind, it is fitting that the film starts its NI Collective tour at Newcastle Community Cinema, as part of the Full Moon Festival.
The documentary is directed and produced by Garry Keane and Andrew McConnell for Real Films and Brendan J. Byrne (No Stone Unturned, Bobby Sands: 66 Days) for Fine Point Films alongside Paul Cadieux (P.S. Jerusalem, The Settlers)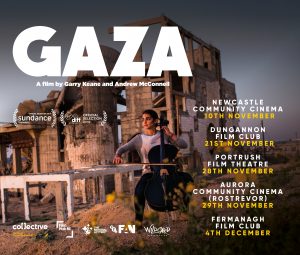 Please see here for more information on Collective and the full touring schedule.