FILM HUB NI LAUNCH SPECIAL NORTHERN IRELAND TOUR OF 'WILDFIRE' FILM
18th January 2022
3 Minute Read
Award-winning Newry-born Director Cathy Brady's debut film Wildfire, will be touring Northern Ireland in the coming months, as part of Film Hub NI's Collective programme which brings local films to local places.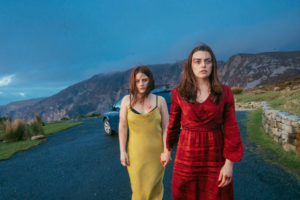 Wildfire is the story of two inseparable sisters Kelly and Lauren whose lives are shattered by the
mysterious death of their mother in the fractious border town where they grew up. When Kelly,
who has been missing, returns home, the intense bond with her sister is re-ignited and together they
unearth their mother's past, but uncovered secrets and resentments which have been buried deep
threaten to overwhelm them.
Nora-Jane Noone and the late Nika McGuigan, co-star as the two sisters alongside Kate Dickie,
Martin McCann and Helen Behan.
Cathy Brady recently won the prestigious BIFA Debut Screenwriter Award for Wildfire and also the
IFTA for Best Director. She says: "I am absolutely delighted that audiences throughout Northern
Ireland are getting the chance to see Wildfire as part of this Film Hub NI Tour. It feels like it's a
homecoming as the story is set here and I can't wait to see how local audiences connect to these
characters and their stories. The lead performances of Nika and Nora are remarkable and made to
be seen on the big screen. We were all deeply shocked and saddened when Nika tragically died while
we were post producing Wildfire. To have known Nika and be known by her is one of the greatest
gifts I've had in my life."
Sara Gunn-Smith, Marketing and Audiences Officer for Film Hub NI says: "Wildfire is a spectacular
film which has received critical acclaim since its premiere at the Toronto International Film Festival,
with prestigious awards for both Cathy as screenwriter from the BIFA, and Nika from the IFTA
posthumously for Best Actress. Given the impact Covid has had on cinemas in recent times it is
wonderful that we can give Northern Ireland audiences the opportunity to view this amazing film
now and celebrate our incredible local cast and crew. We're hoping to have a few special guests at
selected screenings."
Ten community cinemas will be showing Wildfire as part of this FHNI Collective Tour which will run
across Northern Ireland, starting in Newcastle on Saturday 22 January and finishing in Ballyclare on
Saturday 26 March.
Developed and produced with funding from Northern Ireland Screen and filmed on location in
Northern Ireland and the Republic of Ireland, Wildfire is produced by David Collins for Samson Films,
Charles Steel for Cowboy Films and Carlo Cresta-Dina for Tempesta Film and distributed by Modern
Films and Wildcard Distribution.
Film Hub NI is part of the BFI Film Audience Network, a UK wide project to ensure that the greatest
choice of film is available to diverse audiences across Northern Ireland. The initiative is supported
through National Lottery funding, distributed by the British Film Institute.
The full list of FHNI Collective Tour dates and venues is below.
For ticket information please see here.
Newcastle Community Cinema Sat 22nd January
Fermanagh Film Club Wed 2nd February
Braid Film (Hilton, Templepatrick) Thurs 10th February
Flowerfield Arts Centre (Portstewart) Thurs 17th February
Ormeau Community Cinema (Belfast) Thurs 17th February
Subterranean Community Cinema (Omagh) Fri 25th February
Nerve Centre (Derry) Fri 25th February
Roe Valley Arts Centre (Limavady) Thurs 3rd March
Marketplace Theatre (Armagh) Fri 18th March
Picture House (Ballyclare) Sat 26th March
For further information on this tour, or the Collective touring initiative please contact Sara.
-