NEW PODCAST SERIES FROM FILM HUB NI
24th March 2021
3 Minute Read
Engaging audiences online during the global pandemic has been hugely challenging for many arts, creative and community organisations across Northern Ireland. Help is now at hand from Film Hub NI (FHNI) which has just completed a hugely successful training programme with its members, which it is making available FREE online to encourage others in the creative sector to engage with new audiences by hosting virtual events.
The Moving Pictures Podcast series comprises seven one-hour sessions and is now available to film exhibitors and cultural organisations across Northern Ireland and further afield, offering practical advice from a range of leading experts on topics as varied as Video on Demand (VOD) platforms and programming, accessibility, audience development and marketing.
Sara Gunn-Smith, Marketing and Audiences Officer, FHNI which is part of the BFI Film Audience Network, says: "We recognise that many creative groups particularly in rural areas lack the digital resources required to provide their events online and need access to quality training and skills to attract digital audiences. The positive response we received to our recent Moving Pictures programme from our members was overwhelming, so we see this edited podcast series as an opportunity to share our knowledge and solutions with others in the creative space.
"Our podcast series is engaging and informative with lots of practical advice for listeners which should be hugely beneficial to other creative groups. The kind of learning which can be gleaned from these sessions will increase audience accessibility and trust for these organisations, demonstrating affordable ways for all venues and groups, large and small to engage and start streaming screenings to their communities."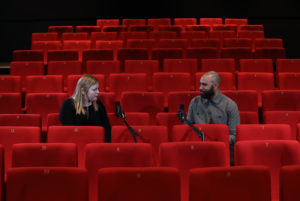 The Moving Pictures podcast series is FREE and delivered by a range of leading experts in the film industry including Michael Staley, Queens Film Theatre (QFT); Rose Baker, Belfast Film Festival (BFF), Toki Allison, Film Audience Network (FAN); Andy Rea (Film Hub Midlands), Jo Taylor-Hitchinson (Birds Eye View), Ellen Reay, Queens Film Theatre and Andi Jarvis, Eximo Marketing amongst others.
Hugh Odling-Smee, Project Manager, FHNI says: "Film Hub NI's priority remains to support our 80 plus members to encourage audiences to enjoy independent film in cinema spaces when it is safe to do so. With kind support from Northern Ireland Screen, we developed this comprehensive training programme to guide our members through every aspect of working online to deliver screenings and events. This will allow exhibitors and now the wider arts communities to keep connecting meaningfully with audiences and showcase inventive programming as we navigate our way back to having live performances in front of audiences when regulations allow."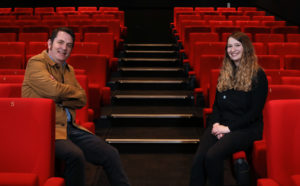 The Moving Pictures podcast series was developed by Film Hub NI and funded by the Department for Communities through Northern Ireland Screen. Click here to access the Moving Pictures Podcast series .