The Curzon Project goes stateside!
28th September 2018
2 mins Minute Read
Following on from the sold out screening hosted by Belfast Film Festival as part of Cinema Day 18, the team behind the short documentary tracking the history of the much missed Curzon cinema on Belfast's Ormeau Rd, are delighted to announce that the film has been selected to screen at the Syracus International Film Festival.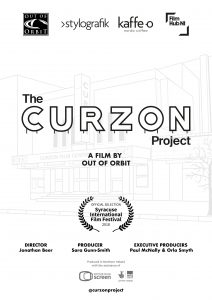 Now in its 15th year, the festival presents films from around the world in a juried competition and the team recognise that it is such an honour that The Curzon Project will be played to an audience right across the world, bringing a little bit of Belfast cinema history all the way to New York State.
The film will be screening on Saturday 13th October at Redhouse Arts Centre.
If you happen to be in Syracuse then grab your tickets here!
The Curzon Project is an Out of Orbit production, in association with Film Hub NI, Kaffe O and Stylografik, and supported by Northern Ireland Screen.