Galway Film Fleadh 2018
31st July 2018
10 Minute Read
This year, as I perused the Galway Film Fleadh programme as I decided how to spend 48 hours at Ireland's most prestigious film festival, I was struck by how many films were from or had a connection to Northern Ireland. I booked in for several features and a shorts packages and tried to take in as many of the northern offerings as I could.
Arriving on Thursday, the first couple of documentaries I saw were The Image You Missed and The Life After. The first film followed the story of Arthur MacCaig and his son Donal Foreman, their difficult relationship and their similar love of filmmaking. After MacCaig died in Paris, his son cleared out his apartment and found tonnes of footage of Northern Ireland from during and after the conflict. An American with a fascination with Ireland, and in particular Belfast, MacCaig's work provides a backdrop for the awkward and poignant father-son relationship, as the film explores politics, family dynamics and filmmaking through this medium that both men use to tell stories in different ways.
Up next was The Life After – a simply presented documentary which delivered massive impact as the stories of families of victims of the troubles were told through interviews and snippets of archive footage. The interviewees were all from different backgrounds but bound together in their loss. A very hard watch, particularly for people like myself who grew up during the troubles.
Brendan J.Byrne's latest offering A Million American Dreams is a harrowing look at Hart Island in New York, where those poor souls who didn't quite live the American dream are buried with no ceremony or recognition. The film is desperately sad in parts but there is a (slightly) happy ending for one of the contributors, which lifts the film. The animation used to depict the island (as the crew were not allowed access to it) by Peter Strain is bleak, beautiful and speaks more than regular footage of the place could do. Well worth a watch.
The last Irish film I'll mention is Cellar Door. I hadn't heard anything about it in advance and was really blown away by parts of it. Local girl Karen Hassan as the lead in this Magdalene Laundries based horror/thriller/mystery is outstanding, and supported by a great cast including Catherine Walker and Mark O'Halloran. The ending will split opinion BUT this is genuinely creepy in parts and had me on the edge of my seat. I'll be very interested to see what writer/director/editor Viko Nikci does next.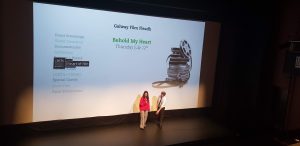 The two international fiction features I caught were really great. Behold My Heart was introduced by the star of the film Marisa Tomei, bringing a little American glamour to the Town Hall, and is a really touching look at grief and how people handle it differently. I did shed a few tears but laughed out loud too. It's a well-written simple tale with some great performances and characters you actually care about.
My favourite feature of the festival was American Animals. Starring young Dubliner Barry Keoghan in his most high profile role yet, the film tells the highly unlikely (but most true) story of an unusual heist which took place in Kentucky in 2004. There is a touch of I, Tonya in the film's style of action and interviews but it works well and I thoroughly enjoyed it.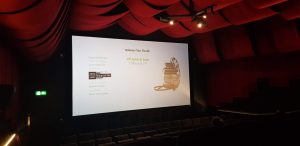 The thing that is so special about film festivals is the gems you happen to see that perhaps may not have come under your radar in any other way and this was true of my favourite documentary of the festival, Of Love and Law. Looking at Japanese culture through the eyes of Fumi and Kazu, partners in an LGBT+ law firm and partners in life, the film sheds some light on LGBT+ issues in the country and the difficulties of living in a very conservative environment. It is a beautifully observed and tender documentary and by the end of it I was a mess of sad/happy tears. I am so glad I saw it and hope to get to see it again sometime soon.
I caught a few shorts before I headed back to Belfast and really loved Wren Boys. A truly different short film, set in a prison, which took me by surprise. Well deserving of all the awards it has been winning. A mention must also go to Mercy, written by Stacey Gregg and starring some formidable NI actors, it certainly made an impact.
So, there you go, 48 hours at Galway Film Fleadh. Kudos to the team there for putting together a brilliant festival.
Sara Gunn-Smith