Report: The Zomer Film College
The Zomer Film College, a week-long symposium of screenings and lectures arranged annually by CINEA, the Flemish Service for Film Culture, is a refreshingly unusual event in the landscape of cinematic retreats. Its combination of informality, uncompromising cinephilia and different themes and approaches sets apart from what can be typically found in academia, industry events and on the festival circuit, and would be a fruitful source of inspiration for future programmes and events.
The former mostly consisted of films from the heady New German Cinema period of the late 60s, 70s and 80s and by such well-known figures as Werner Herzog and Rainer Werner Fassbinder. As well as lesser known but major artists such as Werner Schroeter, Hans-Jürgen Syberberg and the Swiss filmmaker Daniel Schmid, whose excellent somnambulant fairy tale La Paloma (1974) was given a rare screening. Critics Cristina Álvarez López and Adrian Martin astutely contextualized these films and figures not only within the wellspring of cinematic modernism that was the 60s and 70s, and under the tremendous weight and guilt of German history, but also within the broad artistic and intellectual movement and ideals of Romanticism. Less a singular style than a mighty store of forms, associations, and worldviews, one of the great pleasures of this strand was to just how many shapes it could take, from the macho individualism of Herzog's work to the queer surreal tableaus of Schroeter.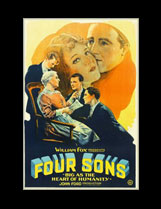 Despite the more specific subject, the John Ford strand was just as expansive. A great many programmes could be made out of the career of the most esteemed Irish-American filmmaker, who marshalled over 100 directorial credits across six decades. This strand homed in on the period where he was most invested in and influenced by Hollywood's 'studio system' which coalesced at the end of the silent era and lasted until the 1950s. The films ranged from one of Ford's greatest silents, Four Sons (1928) and rarely seen, early talkies The Black Watch (1929) and Arrowsmith (1931). We then progressed right up to classics such as The Young Mr. Lincoln (1939) and How Green Was My Valley (1941). Both were made on the threshold of a world war from which Ford would return as a free agent.
In lectures by University of Wisconsin professor Lea Jacobs, marked by detailed production histories and second by second scene analyses, the artistry of Ford is revealed as partly communal entity. His style constructed and influenced by collaborators such as the cinematographers Joseph H. August and Gregg Toland, the writer Dudley Nichols, production designer Richard Day and actor Will Rogers, to name a few. Ford's favourite public persona, as an All-American primitivist and working joe, is complicated by knowledge that he could be a canny backroom operator, sometimes favourably exploiting the changing fortunes of his home studios, Fox Film, and then Twentieth Century-Fox. Ford's tastes were also cosmopolitan, influenced by heady brew that included German Romanticism—chiefly in the form of the great director F.W. Murnau—and various musical traditions from homebrewed blues, spirituals and showtunes to a range of Irish, Scottish and Welsh tunes. Jacobs placed him within the American Gothic tendency and discussed his relationship to Ireland's modern theatre movement— a welcome recurring sight: the face of one of Belfast's and the Abbey Theatre's greatest actors, Una O'Connor, emblazoned across one of the College's banners.
It was enlightening to be immersed in an area of cinema about which I know only a little (New German Cinema), and in another which is not only important part of my research now but a fundamental figure part of my cinephilia (John Ford). I appreciate the support of Film Hub NI in helping to facilitate this wonderful experience.