Docs Ireland Industry Sessions
Whether you are a documentary industry professional or an aspiring factual storyteller, check out the Docs Ireland Industry programme!
This year we focus on collaborating with Europe and European co-production, discuss mental health in documentary filmmaking with The Whole Picture programme, explore Fair Use For Documentary Film Archive with Elizabeth Klinck, and host a series of events in partnership with BBC Northern Ireland.We are also delighted to present for its fourth year the Northern Ireland Screen Documentary Pitch in association with Yellowmoon. On Saturday, 2 July at 2:30pm in the Ulster Museum, five projects will pitch to a panel of leading industry panelists and a live audience. Only one pitch will win an award of £7,500 towards a feature documentary. Check out the shortlisted projects here.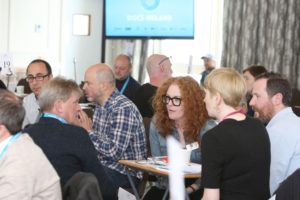 Planning on attending Docs Ireland 4? 
Make sure you grab one of our delegate passes (Full Price £85 / Student Price £55) and come join us for a range of industry events, screenings, networking and social events!For film lovers we
have Film Passes available for only £50!
BUY NOW
The Whole Picture
Featuring speakers from both the Irish and UK doc industries, this session will look at how we can improve mental health and wellbeing in production, and whether mentally healthy productions are possible. We'll show how the Whole Picture Toolkit was created with the industry to combat causes of poor mental health, taking participants through easy actions and changes to implement, and showcase other work in this space designed to combat issues including bullying, harassment and poor working practices.
Friday, 1 July 2022 - 10:30am @ Europa Hotel
Currently in production in Northern Ireland, BBC's 
Once Upon a Time in Belfast
 (working title) is the highly anticipated follow-up series to the critically acclaimed 
Once Upon a Time in Iraq
.The series team will discuss the process of developing the project, including the research and casting process and the practicalities around structuring the narrative of such an expansive episodic piece of documentary filmmaking.
Friday, 1 July 2022 - 11:45am @ Europa Hotel
Universally acclaimed, 
Young Plato
, directed by Neasa Ní Chianáin and Declan McGrath was funded via a four part European co-production, including the Republic of Ireland, Northern Ireland, Belgium and France.In this  in-depth session, the creative team will dissect and demystify the funding process for the project. Speakers include Jackie Doyle, NI Co-Producer of 
Young Plato
, Neasa Ní Chianáin, Director of 
Young Plato
 and David Rane, ROI Producer of 
Young Plato.

Friday, 1 July 22 - 3:15pm @ Europa Hotel
Presented in partnership with Creative Europe Desk Ireland, we have invited an assembly of experienced European documentary producers to discuss the process of working with their respective countries; providing insight into their individual funding systems, sources of finance available, and general information on the intricacies of both their creative and bureaucratic processes.Event will be hosted by: Brigid O'Shea, Founder of Documentary Association of Europe.Companies represented include: Corsa Films from Germany, One of the Guys fom The Netherlands, Sisyfos Film from Sweden and D1 Film, Czech Republic.
Friday, 1 July 22 - 4:30pm @ Europa Hotel
The Move from Linear to Digital: Docs on the BBC iPlayer
The BBC is pivoting from traditional TV into the digital iPlayer environment. So what does this mean for documentary and the BBC's documentary commissioning? In this session, Eddie Doyle, BBC NI's Head of Commissioning shares the latest information on what's working and why
.Thursday, 30 June 2022 - 4:30pm @ Crescent Arts Centre
SPECIAL GUESTS AT DOCS IRELAND
We welcome a host of special guests to Docs Ireland this year. Hear from industry professionals and get involved in some panel discussions debating current, hot topics. We've listed some of our favourites below!
Listening To Kenny G - Listening to Kenny G takes a humorous but incisive look at the best-selling instrumentalist of all time. Penny Lane (Hail Satan?), one of the most interesting documentary makers in the world, will be joining us to present her new film.
The State Of Journalism - Gavin Esler (broadcaster, novelist and journalist), Trevor Birney (filmmaker – No Stone Unturned), Alison Millar (filmmaker – Lyra) and Una Mullally (broadcaster and writer) will discuss the state of journalism, both in documentary, and the wider media landscape. The panel will be hosted by William Crawley.
The Afterlight - The Afterlight itself exists as a single 35mm film print. Further eroding every time it screens, the film is a living document of its life in circulation. Eventually it will disappear entirely.
Charlie Shackleton is one of the best proponents of archive material working in documentary and will be taking part in a post screening panel discussion.
The Peculiar Sensation Of Being Pat Ingoldsby - Seamus Murphy's documentary examines Irish writer Pat Ingoldsby's unique world. Ingoldsby's poems and candid anecdotes bear witness to a visceral relationship with his beloved Dublin, fellow Dubliners and anything that catches his interest. Seamus Murphy will take part in a post screening Q&A.
James Joyce's Ulysses - A hundred years since it first appeared, this film unlocks Joyce's masterpiece in all its surprising, poetic, moving, verbose, sexually explicit and endlessly hilarious glory. Director Adam Low and Producers Dermot Lavery and Michael Hewitt will take part in a post screening Q&A.
Interview with Kim Longinotto - Kim Longinotto is a renowned documentary filmmaker who has been making films since 1976. In conversation with Dr Jolene Mairs Dyer from Ulster University, Kim will discuss and share clips from a range of her fascinating films. Kim will be in attendance online and Jolene will host the conversation live from Ulster University.
How To Tell A secret - explores the act of disclosure of being HIV positive and the stigma that drives people to withhold their status. This is a highly innovative documentary co-directed by Anna Rodgers and Shaun Dunne who will be taking part in a post screening Q&A.


Full programme is here.